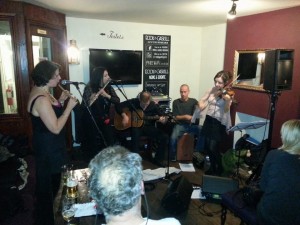 2013 has been a great year for Leather'o – we've had such a great time! We've done more gigs than ever, three weddings, The Galtres Festival for the first time with this line-up (to add to the considerable festival experience among the band members!) and we've added lots of new material – some original and some arrangements of traditional tunes. We've made new friends and played in new venues. The on-stage energy has never dropped!
A huge thank you to everyone who's come and listened, danced and stamped their feet! Special thanks to the fellow musicians who have shared the bill with us (or us with them) and to the promoters and venues who have put us on.
We hope to see as many of you as possible at our last gig of 2013 at The Black Swan in York on Saturday 28 December. Our gigs are always shown on the home page of our website and 2014 is filling up already – see you at a gig, soon!
Happy New Year!
Angela, Bob, Elaine, Linds and Steve – Leather'o