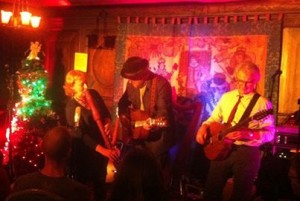 What a great gig! Thanks to everyone who crammed into the fabulous upstairs room at the Black Swan in York on Saturday night and the trail of people down the stairs, trying to get in! Here's a fashionably low-res pic of one of the fabulous acts – Over The Yard Arm: https://www.facebook.com/OverTheYardarm
We particularly liked Bryony's version of Jolene, Steve absolutely loved Aimie's rocking set, I enjoyed Sarah more than ever (best rendition I've ever heard of "One For the Crow…") and OTY were great – singalong, bass recorder, explosives and all!
We're gig hunting and the 2014 calendar's filling up – see you soon and Happy New Year!