We're visiting new venues and returning to some of our favourite haunts this Spring. Here's a photo, courtesy of Makiko Cato Brookes, from our first gig at The Basement Bar at York's City Screen: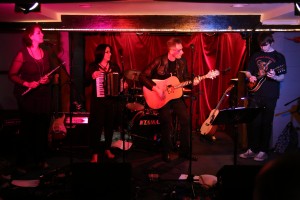 Rachel our fiddle player was away in Scotland, so only the four of us in this photo.
We will be back at The Fauconberg Arms in Coxwold on 18 April, and returning to The Snickleway Pub in York for the first time in several months on 23 April.
May sees the festivals begin with us playing at several new events in The East Riding. We're also back at The Black Swan Folk Festival in June.
We're preparing some new material, too. We've got a couple of new slip jigs (those are the ones in 9/8, but not as difficult as they sound), a new song and a couple more original tunes in the pipeline. We'll be giving them a trial run at an open mic or two in York over the coming weeks.
Please keep an eye on our calendar (to the right on this page) and come along!