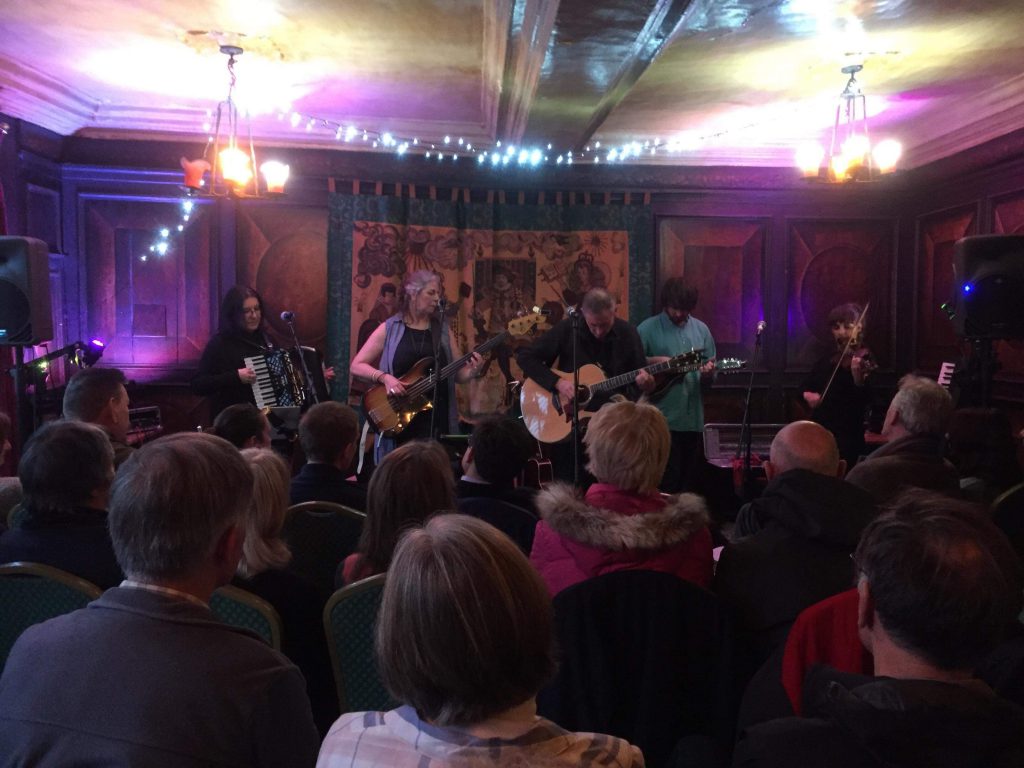 31 December: Tonight we hold the band's annual award ceremony, the Golden Beast Awards, named after the two golden retrievers and the ginger cat who follow us around. As we contemplate the high and low lights of 2019, who better to share them with but our small but perfectly-formed fan base?
We were pretty pleased with the Acid Croft rave we created at York's Mindfest on Parliament Street in September.
Who could forget the many, frankly scary, gigs at the Irish bar in Scarborough, best summed up by Angie when she exclaimed, mid-gig, '…what do you have to do to get thrown out of this pub?'
Best audience has to go to The East Riding Theatre in Beverley – thanks to Phil Simpson for putting us on. Most persevering audience goes to the regulars who come and see us in Scarborough. They sit very still while the stag and hen do's kick off around them and we take shelter with them in the break.
Most mud goes to Greenside Festival in the Dales (to be fair, it wasn't a very muddy year).
Toughest journey was probably driving two hours through the fog to a gig at the Tan Hill Inn in the Yorkshire Dales.
We clocked up a few more festivals this year (Can you hear us Shrewsbury… Cambridge? We're up here, waiting to hear from you…).
We sold the final few copies of our CD 'Six' and together with the streaming fees we can treat ourselves to a packet of crisps with the proceeds. Yay!
This year has also stood out for the number of new tunes and songs we've introduced to the set (someone in the band clearly has time on his hands…) and we've got quite a few new ones already in rehearsal for next year.
Thanks to everyone who came to see us, and to the promoters and pub managers who booked us in 2019. Thanks as always to Graham, landlord at The Snickleway – the best pub in York, and thanks also to Bob Mitchell for all the fantastic photos he takes of the band!
We have nearly 30 gigs in the diary for 2020, from the Scottish Highlands in the North to the Lake District in the West and Wiltshire in the South, plus our regular gigs in York and on the East Coast. Happy New Year – see you there!