So, Leather'o have been trying to avoid the "windswept, on a dry stone wall" cliché, but the photo-opp at The Tan Hill Inn was just too good to miss – it's the highest pub in England and it was a beautiful day. We had a great gig there, a few surprises and a couple of good walks out along the Pennine Way.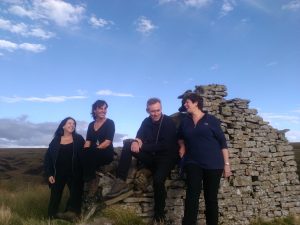 We'll be playing at The Snickleway Inn in York this Thursday, and the set will include a couple of new songs – the Led Zeppelin number seems to be going down particularly well!
Our next gig after that will be Jack's send-off, as he's going to Asia for a few months. We'll cram all the mandolin solos into the set then probably get our drinking trousers on to raise a glass to his safe return.