Leather'o is a high energy Alternative Celtic – Gypsy Band based in York. They play all acoustic, traditional instruments in venues from pubs to major festivals, extensively reworking tunes and songs from the Irish, Scottish and Eastern European traditions.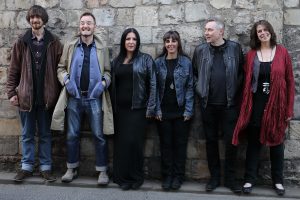 The band plays 50+ gigs each year, usually touring further afield once or twice a year and taking the summer off.
Formed in 2012, Leather'o  has developed extensive repertoire, including many original tunes.
Their first CD Five was released in 2014 and their second Six in the summer of 2018. You can listen to both of them via most streaming services, or you can buy a physical copy from our shop page – but it's easiest and cheapest to get one directly from us at one of our gigs!
The band includes players with many years credits from musical theatre to festival, classical quartet to rock band, as well as on the folk, Celtic and gypsy scene:

Angela Gordon – Vocals, Accordion, Flute, Celtic Whistles
Bob Ward – Guitar
Jack Woods – Mandolin
Lindsey Woods – Flute, Celtic Whistles, Fretless Bass
Rachel Wilson – Fiddle
Billy Hickling – Percussion
Members of the band make frequent appearances with other bands and folk performers around Yorkshire and UK-wide.