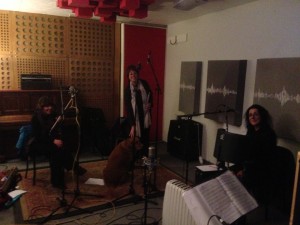 Here's a low-light photo from our recording session in February and you can hear a couple of live tunes on our Listen page. Recording Engineer Isaac McInnes says it was the first time a band had brought their dog with them to a session (we only brought one, well-behaved dog – the new puppy and The Wolf had to stay at home).
We've put two "live" tunes, fluffs-and-all, on Soundcloud while we get to work on a few more carefully crafted recordings.
We're also working on a couple of new tunes. We should be playing one of them this Thursday (11 February) at The Snickleway Inn on Goodramgate in York (see our Forthcoming Gigs page). With Valentine's day approaching, we'll probably punctuate the tunes with a few highly unsuitable songs about love, infidelity, class rivalry, murder, etc..